Debit Cards
Why Choose a Citizens Bank Visa Debit Card?
It's easy to see why adding the buying power of a Citizens Bank Visa Debit Card to your account makes sense!
It's safer than cash and faster than writing checks.
Pay for movie tickets, gas, doctor visits, dry cleaning – anywhere Visa is accepted.
Use your card at any of our ATMs to access account balances, transfer funds, get cash and even change your PIN.
Purchases are deducted directly from your checking account and transactions appear on your monthly statement for easy record keeping.

And, with our Instant Issue technology, you can have your card the same day. Call us today to at 575-647-4100 to order your debit card. Additional disclosures and account information will follow receipt of your Citizens Bank Visa Debit Card.
 Contactless Ways to Pay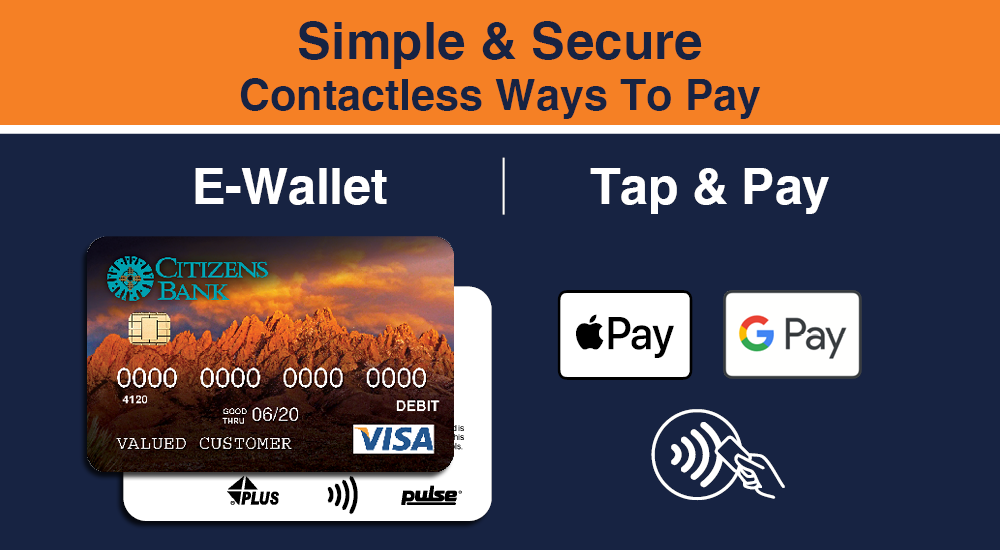 High School Debit Cards
Citizens Bank of Las Cruces announces our High School Debit Cards! Now you can show your school pride and support your favorite school. Citizens Bank will donate to the school shown on your card with every debit card transaction. There is no additional cost to the card holder for the donations, and the card is available with any new or existing Citizens Bank checking account!
Come get your High School Debit Card TODAY!
251 - Mayfield Trojans

252 - Las Cruces

Bulldawgs

253 - Centennial Hawks

254 - Organ Mountain

Knights

255 - Early College

HS Trailblazers

256 - LCPS Foundation

257 - Rio Grande

Preparatory Institute

474 - T or C Hot

Springs Tigers



Debit Card Gallery
We also feature a gallery of other debit card designs for customers to choose from, and will be adding more choices over time. Our current selection is:
 

101 - Default Design

104 - Pecan Trees

 

105 - Las Cruces 1890

106 - Red & Green Chile

107 - White Sands

108 - Zia Design

471 - T or C Turtleback Mtn

472 - T or C Circa 1953

473 - T or C Elephant Butte

501 - El Paso






If you have a Citizens Bank Visa Debit Card
If you would like to change your PIN, you can:
Card Management
We offer several convenient ways to manage your card.
Online/Mobile Banking - You can click on Card Management to choose how, when and where your card is used, set travel notifications, set spending limits, and set alerts.
Via ATM: You can activate a new card by using it for the first time with your new PIN number at any of our ATMs.
By Phone: We also have a toll-free number to use for customers who want to activate their cards, reorder a card, or report a card lost/stolen and is available 24 x 7 x365.
         The number to access is: 1-866-839-7285, Option 4
          After choosing Option 4:
To activate a card:  Option 1
To deactivate or report a card Lost/Stolen:  Option 2
To re-order a new card (same card #):  Option 3

        Local callers may also call the regular Telephone Banking system to access these features: 575-647-4199
Another Phone Option to solely report a lost or stolen card: 1-888-297-3416 (within U.S.)
206-389-5200 (outside U.S.) 
Fraud Center
If we suspect fraudulent activity related to your debit card, you may receive a text or an email to confirm/deny the transaction. If the charges are fraudulent, we can deactivate your card immediately and get a new one ordered for you.
To ensure uninterrupted service, it is important that you maintain good contact information with the bank (cell phone number/email address)