Community Involvement
2018 Veterans Baskets
Employees of Citizens Bank competed to create our annual Memorial Day Baskets to honor our nation's veterans. Once judged by some of our local vets, these baskets were hand delivered to the veterans home in T or C, New Mexico. 

Pet Food Drive
Employees of Citizens Bank came together to raise over 430 lbs of food and goods for Action Program for Animals and Safe Haven Animal Sanctuary.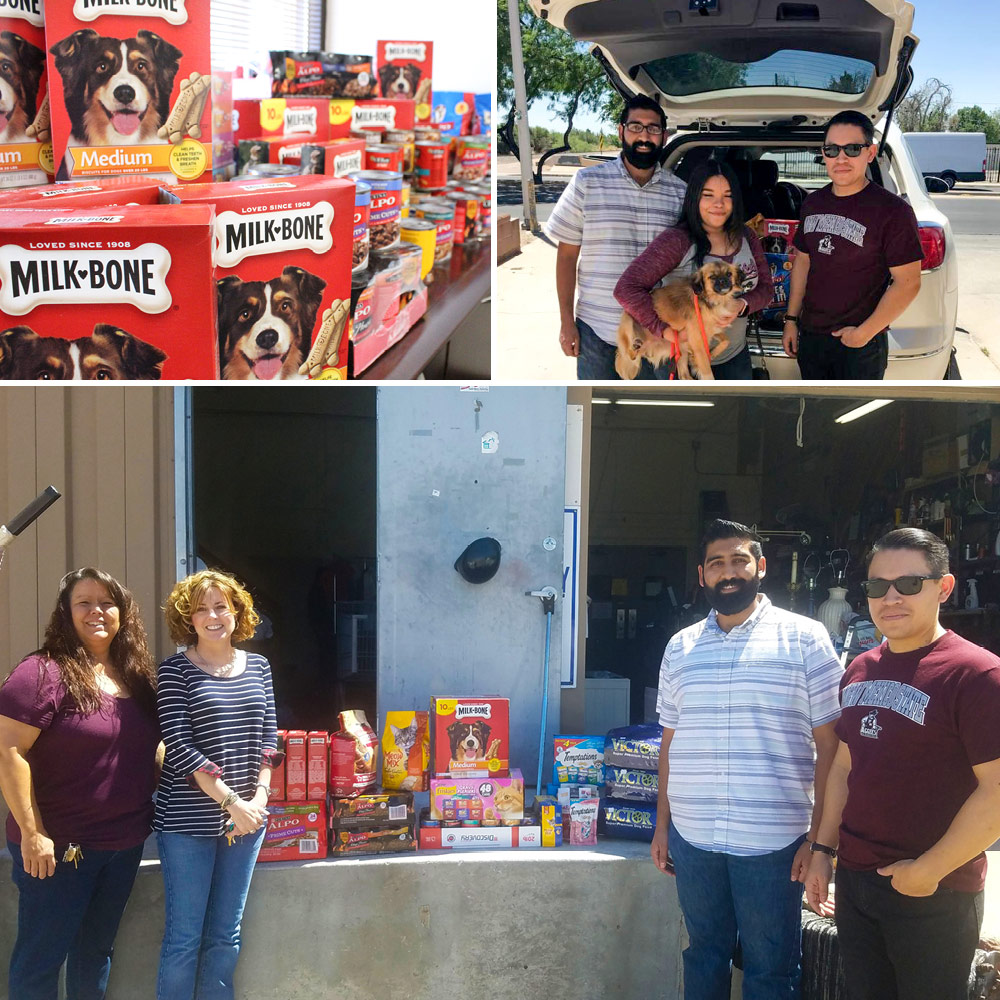 2018 Community Shred Day - Las Cruces
We had another successful Shred Day in Las Cruces! Citizens Bank teamed up again with American Document Services to provided a needed service to our community and shredded 32,500 pounds! This year our event was the biggest yet with local radio station KGRT on site and members from the Las Cruces Chamber of Commerce Linking Hands team helping out too!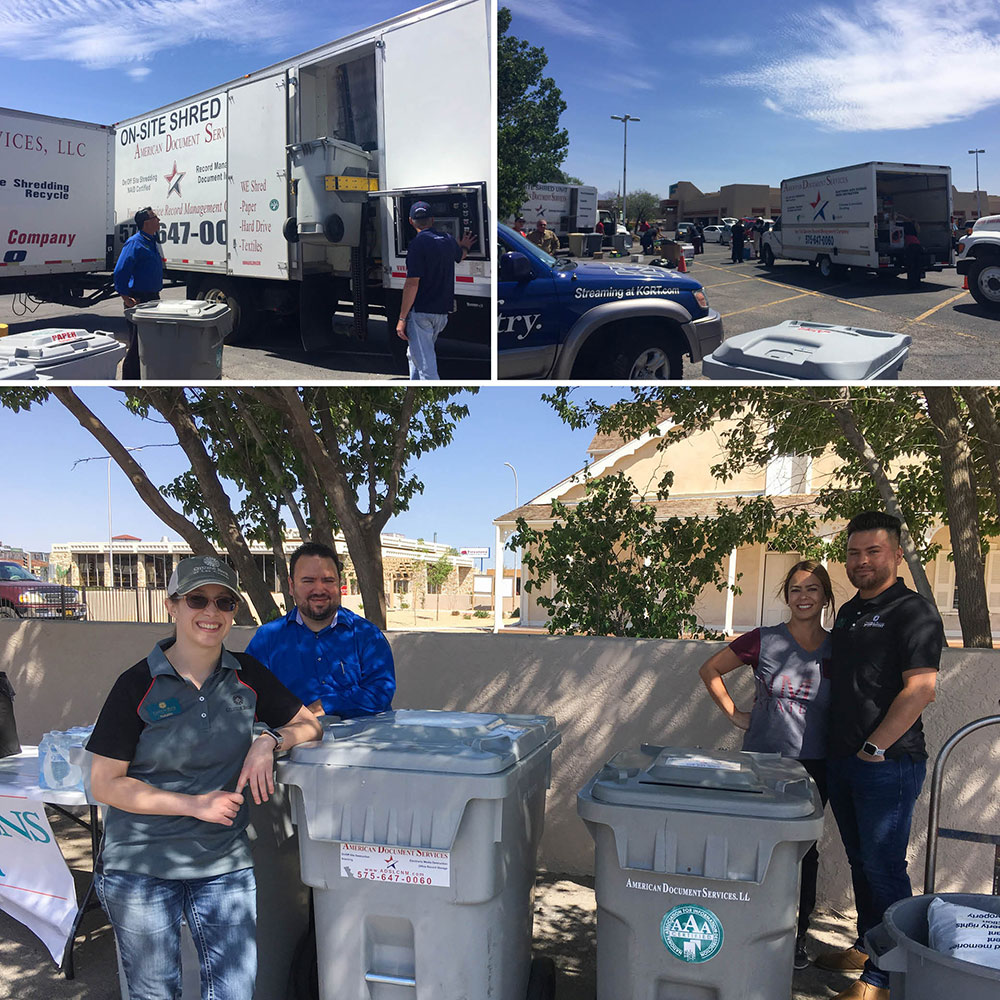 2018 Community Shred Day - T or C
It was a great Shred Day in T or C! In partnership with American Document Services we shredded 11,000 pounds of paper! Special thanks to the City of T or C for donating their recycling bins for empty boxes!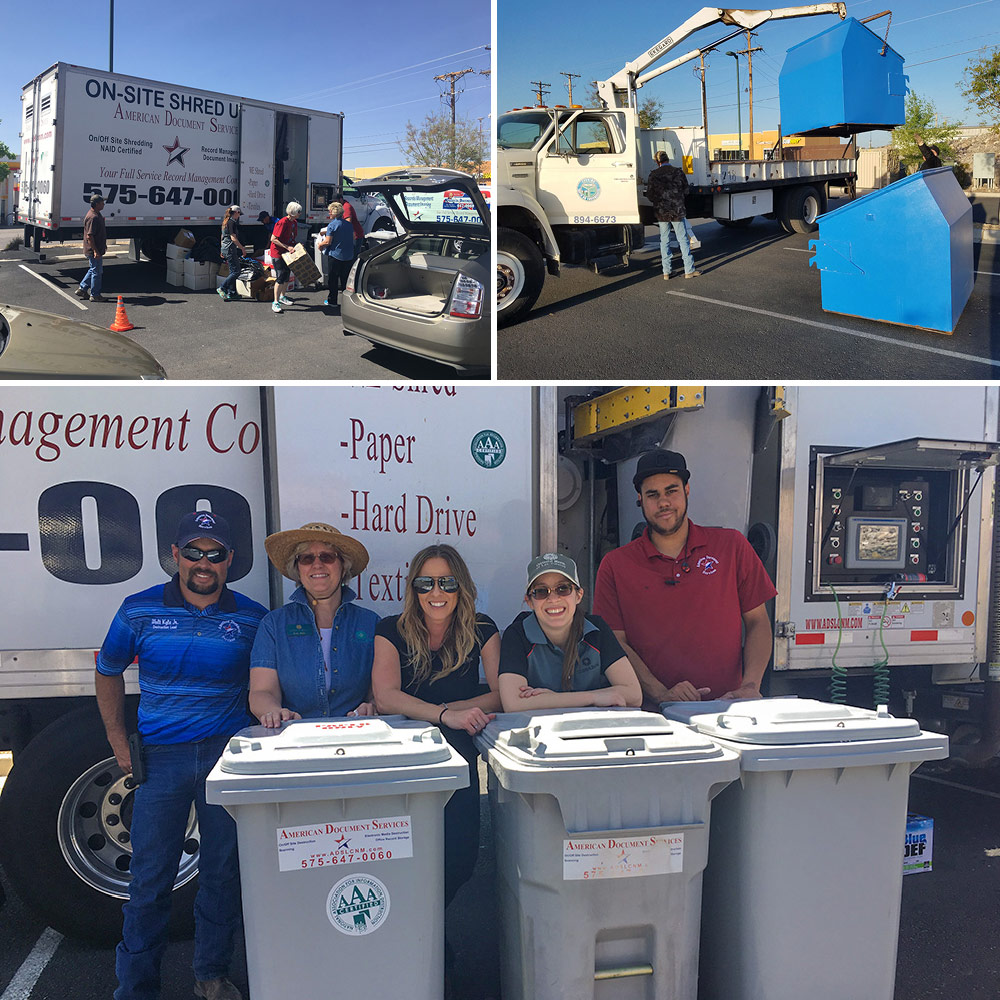 Board of Councilors - Citizens Bank
The Board of Councilors consists of business people in and around Las Cruces who understand the market and our community's goals. They provide insight and guidance to the bank and make recommendations where appropriate.
Current Board of Councilors:
| | |
| --- | --- |
| Jim Mattocks, J&J Supply | Lane Gaddy, W. Silver Recycling, Inc. |
| Kim Reagan, Priority One Property Management, Inc. | Paul Malooly, El Paso Paper Box, Inc. |
| Virgil Medina, La Clinica de Familia | Jennifer Sandoval, R. Hines Construction |
| Josh Lyons, Insta-Copy Imaging | Greg Groves, Picture Frame Factory Outlet |
| Eric Walton, Spence Asset Management | Eli Estrada, Pat Campbell Insurance, LLC |
| Gricel Chavez, Southwestern Abstract and Title Co. | Brennen Jeffers, Big Star ACE Hardware & Farm Supply |
| Patty Olson, Exit Realty | Donna Richmond, La Pinon Sexual Assault Recovery Services |
| Kent Thurston, Ken Thurston Development | Chris May, Mesilla Valley Hospice |
| Dr. Ed Hernandez, Eyes of the Southwest | Jason Browning, Browning Electric |
| Robert Major, Major Wildlife Studio | |
Thank you for all you do to contribute to the Bank's continued success.
High School Debit Card Donation 
Thanks to our customers and their support of the High School Debit Card program, in 2017 Citizens Bank was able to donate $19,576 to the Las Cruces Public Schools and $3,318.60 to Hot Springs High School in T or C.

2018 Community Shred Days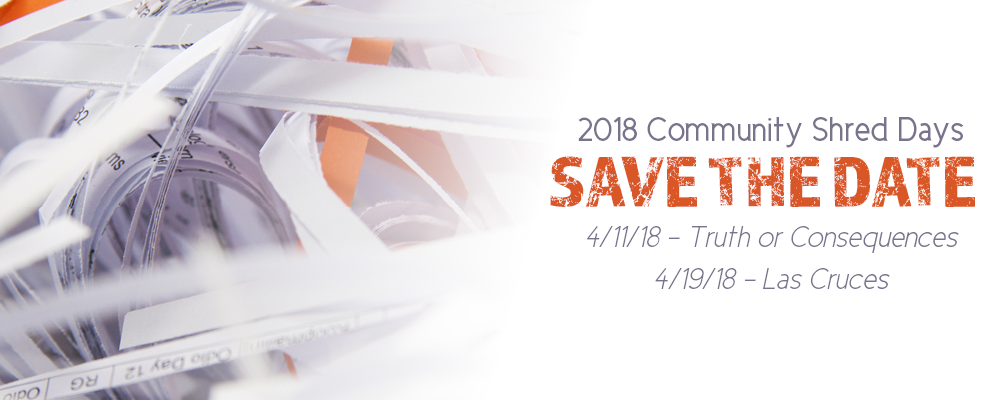 2017 Aggies Go Bowling!
Employees of Citizens Bank wore all their Aggie gear to celebrate the NMSU Aggies going to the Arizona Bowl! Go Aggies!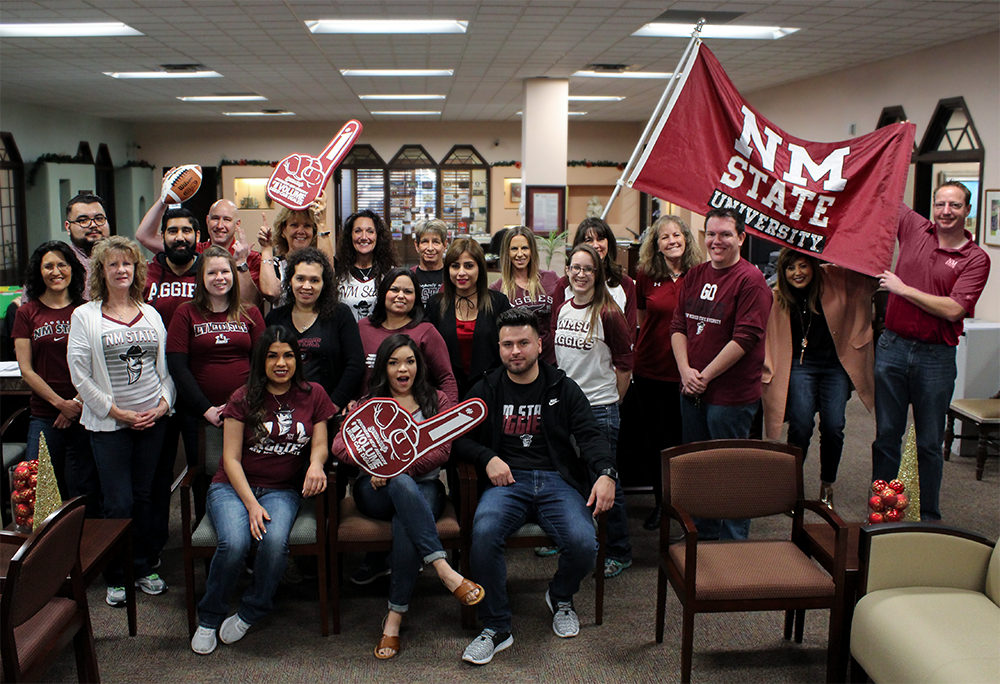 2017 La Casa Holiday Donation
Employees of Citizens Bank came together to play Secret Santa to benefit La Casa.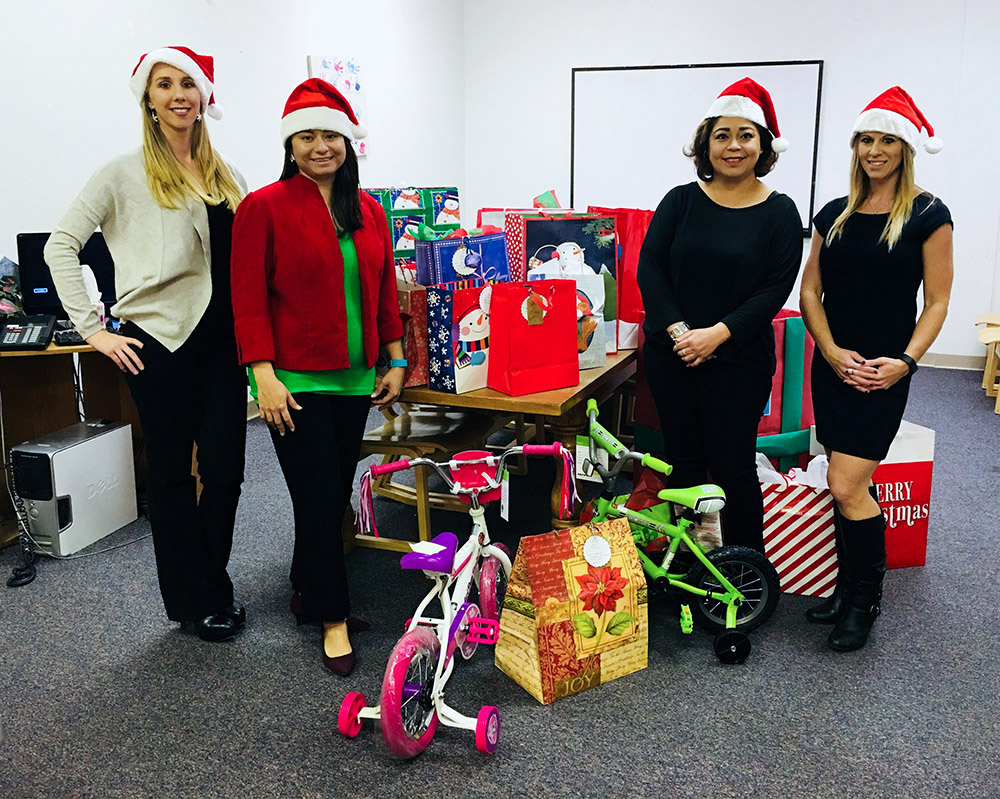 2016 Business of the Year

This February Citizens Bank received the Greater Las Cruces Chamber of Commerce award for Business of the Year. We would like to congratulate our Citizens Bank family for their hard work as volunteers in our community and involvement as community bankers. We wouldn't have the success that we do if wasn't for the communities involvement as well so for that we would like to thank the Las Cruces and Dona Ana commuinity. Pictured above from left to right are members of our Executive Management team: Jed Fanning EVP, Ruth Christopher EVP & CFO, George Ruth President & CEO, and Tim Hargorove EVP.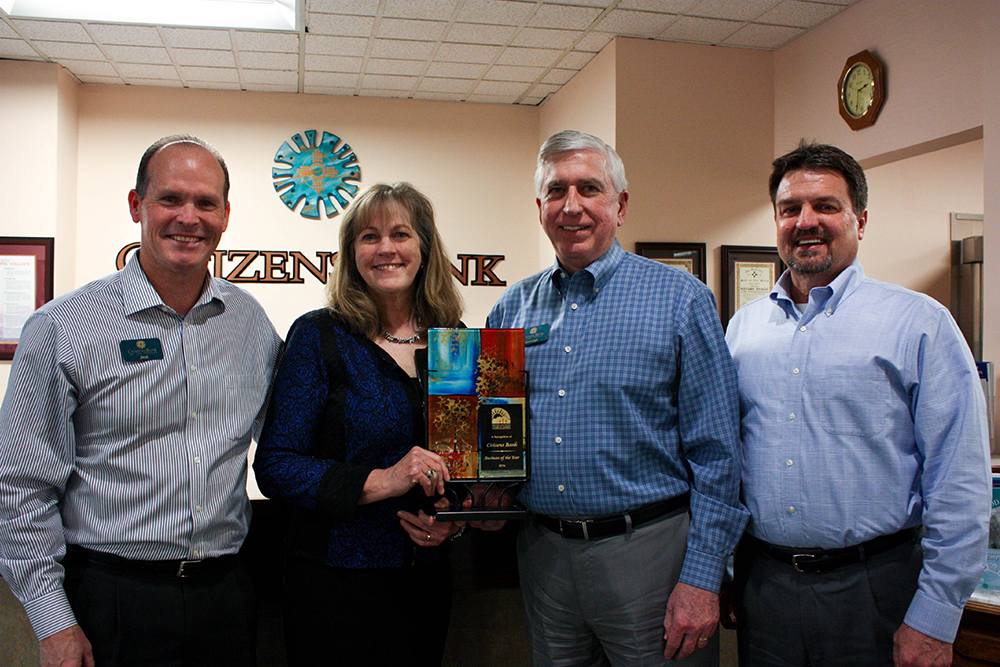 New Digital signs for MacArthur & Desert Hills Elementary

Citizens Bank recently donated brand new digital signs to MacArthur & Desert Hills Elementary. Students and staff marked the occasion with a ribbon cutting ceremony where members of the bank's Marketing Committee were presented with a custom made thank you poster. Pictured above are the students & staff along with George Ruth President, Jessie Sanchez VP, Tres Libby SVP, Jed Fanning EVP, Mikko Noopila VP, and Rhena Phillips AVP.